I've gotten so good at this, I can DJ with my eyes closed!

Last Friday marked the third to last Kitchen! It was a lot of fun. DJ And-a-half came by for one last co-hosting session. He put the finishing touches on an automation system for the station! It's really exciting, because a guaranteed 24/7 schedule will do a lot for our local image. I recorded my voice for twenty automation-related voice breaks (along with twelve saying "The time is one o'clock..." etc) so I might end up living on at WCDB as a ghost, night DJ that's always around when no one else is. That would be pretty cool! We'll see.
Here's some photos Joe took from the day-

We went to take a look at the old transmitter, here's our shoes on the way up the elevator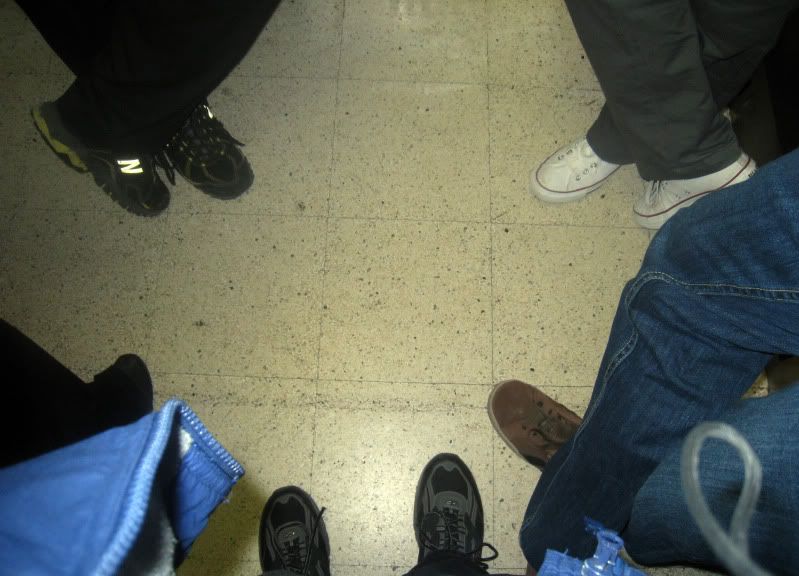 I noticed the "REM" light and noted it would be cool if the transmitter was programmed to make that light light up whenever we played REM. I did end up playing REM as a request from my dad, I wonder if the unit got the joke...
Also of note - To the left of my finger in the above picture - After my REM statement, Matt immediately wondered aloud if there was a band called SWR TEMP. Haha.

Here's my office, soon to be not my office... :-(




As for this week's show, the playlist was as follows...



| | |
| --- | --- |
| HOWARD JONES | ALL I WANT |
| JESSE JOHNSON'S REVUE | BE YOUR MAN |
| PETER MURPHY | CUTS YOU UP |
| THE WILD SWANS | BRINGING HOME THE ASHES |
| MARSHALL CRENSHAW | THERE SHE GOES AGAIN |
| REM | DON'T GO BACK TO ROCKVILLE |
| FRANKIE GOES TO HOLLYWOOD | TWO TRIBES (INTERMISSION LEGEND MIX) |
| JESSE JOHNSON FEAT. SLY STONE | CRAZAY |
| KURTIS BLOW | THE BREAKS |
| DEVO | THAT'S GOOD |
| THE JETS | YOU BETTER DANCE |
| PRINCE | BATDANCE |
| MICHAEL MCDONALD | I KEEP FORGETTIN' (EVERY TIME I'M NEAR YOU) |
| THE NEW MONKEES | VICTIM OF LOVE |
| GRACE JONES | I'M NOT PERFECT (BUT I'M PERFECT FOR YOU) |
| MEN AT WORK | BE GOOD JOHNNY |
| THE SMITHS | STILL ILL |
| DAN HARTMAN | I CAN DREAM ABOUT YOU |
| THE HEARTBREAKERS | BORN TO LOSE |
| KILLING JOKE | EIGHTIES |
I'm going to cover Colin Hay's acoustic concert at the Egg in Albany this Tuesday for the newspaper. Very cool! I can't wait to check it out. I hope he plays a lot of old Men at Work tunes!! If the photos come out good, I might have to make a mid-week update with the contents of that concert.
So with only two Kitchens left, I'm feeling pretty choked up about it all. I can't believe that this time has finally come. Back when I was a sophomore, I felt like graduation would never arrive! Now, here I am, closing up my radio show. In fact, I'm in the library right now and should be writing an essay (and writing two other essays and reading two books) but instead I'm doing this! The station has been a great aside for me while at SUNYA. I love it, and I look forward to coming back and reliving my days at future reunions (Maybe I'll find my place as a Joe Schepis of sorts). It's weird to think that I might be talking to a WCDB DJ some day who is right now in a crib... Wild!
Anyway, next week's show will be focussed on a particular year: 1983, to be exact. I find it to be the pinnacle of the decade in music, and I hope you'll enjoy it too.
See you next week...
-LEON